20 Ways To Enjoy Sweet Corn
Of all the food summer brings, corn on the cob is definitely one of the best. Even when it's simply steamed and slathered with butter, it feels like the perfect treat to enjoy in the sun. But that's not to say that eating it straight off the cob is the only way to enjoy it. Corn is super versatile and can be used in everything from salads and pastas to baked goods and soups.
Swing by our produce department and pick up a few ears and try out one of our favorite ways to enjoy peak season sweet corn.
Corn Cakes with Avocado
Transform sweet corn into a salty fried snack with this corn cake recipe!
Serve these as a side dish to fried chicken and coleslaw, or pair them with fresh avocado and salsa for a crowd-pleasing appetizer.
Ingredients
1 1/2 cups corn kernels (frozen or canned)
3/4 cup milk
1/2 cup ricotta cheese
2 cloves garlic, peeled and minced
2 tablespoons minced fresh herbs (basil, parsley, cilantro or chives all work well)
1 teaspoon smoked paprika
3/4 cup all-purpose flour
1/4 cup cornmeal
1/2 teaspoon baking soda
1/2 teaspoon salt
Black pepper to taste
1 to 2 tablespoons vegetable oil for cooking the corn cakes
1 avocado, peeled and sliced or diced
Directions
Thaw or drain corn kernels. In a large mixing bowl, blend together all of the ingredients except the vegetable oil and avocado.
Heat 1 tablespoon of oil in a large skillet over medium-high heat. Pour 2 to 3 tablespoons of batter into the hot skillet for each corn cake. Cook 3 or 4 cakes at a time, so as not to overcrowd the skillet.
Cook the corn cakes for 2 to 3 minutes on each side, flipping when the edges become firm. Keep cooked corn cakes in an ovenproof dish in a warm oven until all the cakes have been made.
Serve warm with avocado and your favorite prepared salsa.
Recipe and photo adapted from Welcome to the Table
Corn with Cilantro Cumin Butter
If you are looking to keep your corn on the cob, here's a recipe with a flavorful twist.
Rather than just slapping some butter on your corn, consider making this cilantro-cumin butter that will pair well with your favorite barbecue foods.
Ingredients
6 ears of corn, shucked
1/4 pound (1 stick) unsalted butter, at room temperature
2 tablespoons cilantro, finely chopped
1 teaspoon ground cumin
2 tablespoons fresh lime juice
1/2 teaspoon chili powder (optional)
1/2 teaspoon salt (optional)
Directions
Bring a large pot of water to boil on the stove. While waiting for the water to boil, blend together the butter, fresh cilantro and cumin in a bowl or food processor. Add the lime juice and mix until incorporated, and set aside.
Place ears of corn in boiling water, and cook for 3 to 5 minutes until kernels are bright yellow and just tender. Remove from the heat and drain.
Spread the seasoned butter on hot corn, dust with chili powder and salt if desired, and serve immediately. Wrap any leftover butter in plastic wrap or waxed paper.
Recipe and photo adapted from Welcome to the Table
Quinoa Kale Salad with Corn
Packed with all sorts of ingredients that are super nutritious, this quinoa salad features sweet corn to balance out all the nutty and savory flavors.
This recipe calls for kale as the protein source, but feel free to sub in chicken or turkey if you prefer a meat-based protein.
Ingredients
1 1/2 cups water
1 cup red quinoa
1 pinch salt
4 cups chopped raw kale (about 4 ounces)
10 ounces extra-firm tofu (or pre-baked tofu)
1 teaspoon tamari soy sauce
Vegetable oil spray
1 cup corn, frozen or canned, drained
2 tablespoons flax oil, walnut oil, or canola oil
2 tablespoons fresh lemon juice
1/2 teaspoon salt
Freshly ground black pepper
Directions
Preheat the oven to 400ºF, if baking the tofu yourself.
In a 2-quart saucepan with a lid, bring water to a boil, and add the quinoa and salt. Return to a boil, then reduce to low and cook for 14 minutes, until all the water is absorbed. Chop the kale while the quinoa cooks, and as soon as all the water is absorbed, stir the kale into the hot grain to steam. Cover, remove from heat, and let stand for five minutes.
Drain the tofu, wrap in a kitchen towel, and press to remove excess water. Slice the tofu in 1/2 inch wide slabs. Spray a baking sheet with vegetable spray, place the slabs on it, and sprinkle with half of the tamari. Flip the slabs and sprinkle with the remaining tamari. Bake for 20 minutes, then turn the pieces and bake for 15 minutes more. Let cool, then cut in small cubes.
Transfer the cooked quinoa and tofu cubes to a large bowl, and add the corn. In a small cup, whisk the flax or other oil, lemon, salt and pepper and pour over the quinoa mixture. Toss and serve at room temperature, or chill to serve later. Keeps for a week in the refrigerator.
Recipe and photo adapted from Welcome to the Table
Calabacitas
A simple recipe with a fancy name, calabacitas is sautéed zucchini, corn, tomatoes, and green chilies that can be served as a side or atop tortillas.
Calabacitas would make a wonderful topping for chili-lime shrimp or Cajun-style grilled chicken.
Ingredients
2 tablespoons vegetable oil
1/2 cup diced yellow onion
2 cloves garlic, minced
4 cups small zucchini and/or yellow squash, cut in 2-inch chunks
1 cup corn kernels (fresh, frozen or canned)
1/2 cup diced green chilies (canned)
1 cup diced fresh tomatoes
Salt and pepper to taste
1/4 pound queso fresco (or feta), crumbled
Directions
Heat the oil in a large pot over medium-high heat. Add the onions and garlic and sauté for 5 minutes until onion is soft.
Add the squash, corn, green chilies, and tomatoes and stir well. Cover the pot and simmer 10 minutes until squash is tender. Season with salt and pepper, top with the crumbled cheese and serve.
Recipe and photo adapted from Welcome to the Table
Sheet Pan Chipotle Cheddar Corn Chicken Enchiladas
Enchiladas are such a tasty feel-good food. They're also a total crowd-pleaser!
This recipe calls for you to cook the chicken and then shred it with forks, but swapping it out with our rotisserie chicken that's available in the Deli to-go case would really help to speed up the process.
Top your enchiladas off with broiled corn and refreshing avocado slices.
Find the full recipe at Half Baked Harvest
Warm Grilled Tomato, Corn and Bacon Salad
Celebrate some of the best flavors of August with this warm salad from Edible Seattle.
In-season corn, grape tomatoes, and basil are the stars of the show, and a quick grill of the corn and tomatoes adds a nice summery char to the dish.
Serve this warm salad as a side dish to grilled chicken, or add it atop our housemade pasta for a light and delicious summer dinner.
Find the full recipe at Edible Seattle
One-Skillet Corn Chilaquiles
The best part of this meal? Obviously the flavor, but the fact that it only requires one pan is definitely a major plus.
Calling for just 11 ingredients and spices, this corn chilaquiles recipe includes directions to make your own salsa verde from scratch.
Avocados and sour cream add a nice cooling element, and in-season cherry tomatoes would add an extra level of sweet flavor.
Find the full recipe at Bon Appetit
Roasted Sweet Corn Taco Salad
Vegan-friendly and packed full of fresh flavor, this taco salad from Thrive Magazine includes directions for how to make your own quinoa taco "meat".
The sweet corn in this recipe is roasted in the oven, but feel free to char it on the grill if you want a little smoky flavor.
If you have a meat alternative that you prefer to quinoa, feel free to sub that in!
Find the full recipe at Thrive Mag
Spicy Corn Fritters with Cilantro Cream
Spicy corn fritters are paired with cooling cilantro cream to create a zippy appetizer or side dish for grilled chicken and salad.
This recipes call for jalapeño to add a kick of heat. Discard the seeds if you want it a little milder, or keep the seeds in for extra spicy fritters.
Serve these fritters with a side of cooling guacamole or salsa for dipping.
Find the full recipe at Feasting at Home
Browned Garlic Butter Creamed Corn Cheese Ravioli
You might not think of corn when you picture a creamy pasta dish, but you should consider it!
This recipe calls for you to make the ravioli from scratch, but if you're short on time you can always sub in some of fresh ravioli from the dairy cooler.
What really makes this ravioli special is the browned garlic butter that's sautéd with sweet corn to create a salty-sweet topping for delectable pasta.
Find the full recipe at Half Baked Harvest
Sopes with Beans and Corn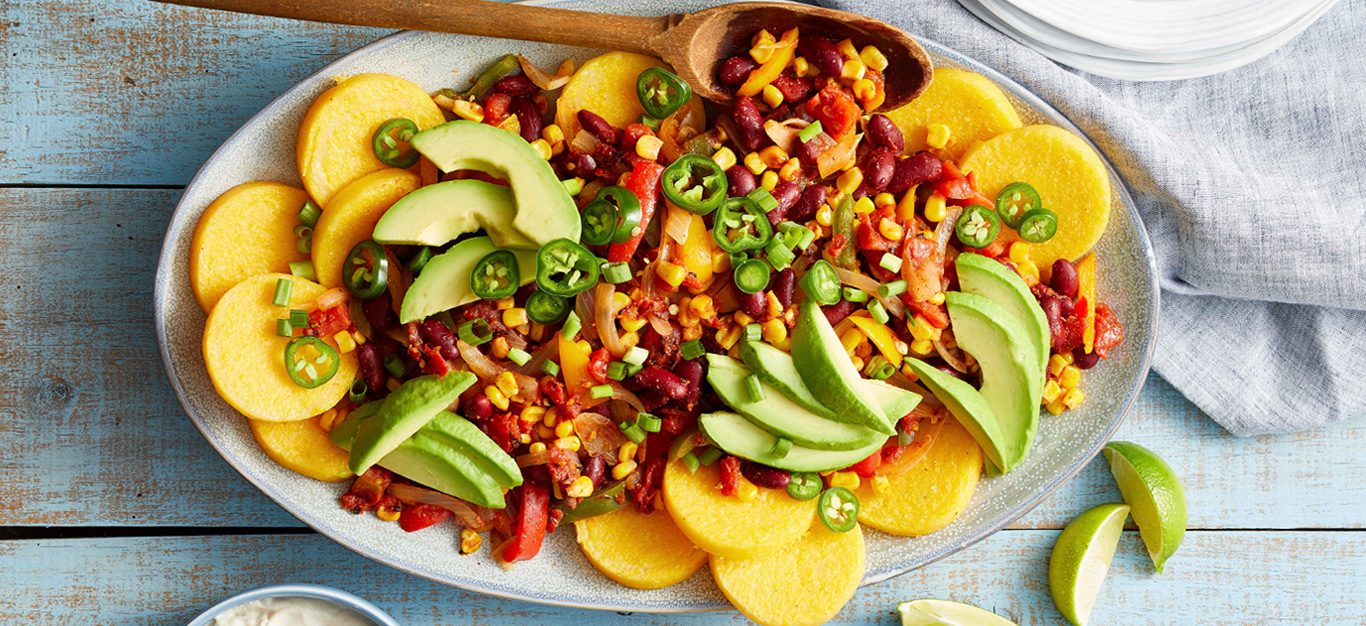 Here's a vegan-friendly recipe that comes together in just around 30 minutes.
Traditionally, sopes are topped with beef or chicken, but here, they're topped with beans for a healthy plant-based protein substitution.
Polenta is used instead of homemade corn dough, but if you wanted to keep it more traditional you could always make your own dough from scratch.
Find the full recipe at Forks Over Knives
No-Brainer Corn Salad
If you've got a whole bunch of corn on hand without any idea of how you'll use it, consider this simple salad that you can toss together in just a few minutes.
Charring the corn is the main task-at-hand, but once you've done that, the salad practically makes itself.
You'll need just a few simple ingredients like nuts, corn, chile, cotija, and other common pantry staples.
Find the full recipe at Bon Appetit
Smoky Corn Quesadillas
Quesadillas are a quick and easy snack or lunch that can be tossed together in a jiffy. They're also an easy way to utilize veggies and meats that might otherwise go bad if they get tossed to the back of your fridge.
These quesadillas call for corn, cheese, cilantro, smoked paprika, and tortillas.
If you made tacos earlier in the week and have extra meat in your fridge, toss that in, too!
Find the full recipe at Fine Cooking
Zucchini Cornbread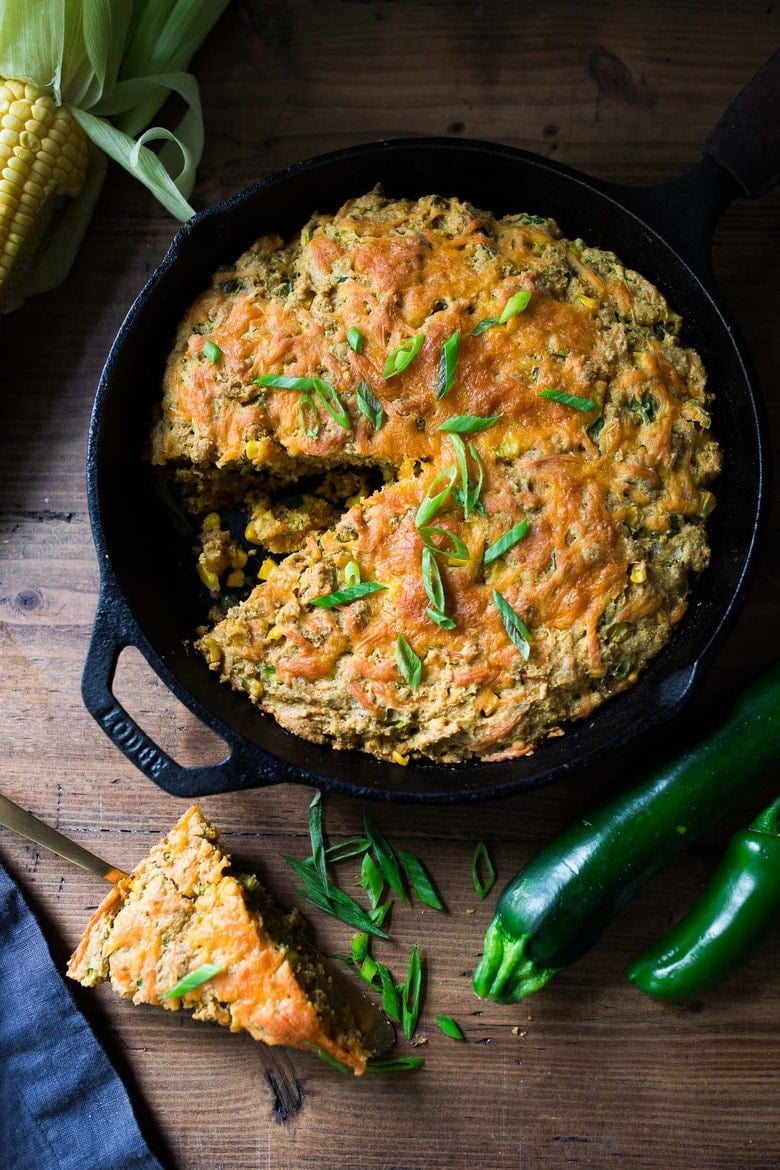 A corn recipe blog post wouldn't be complete without at least one cornbread recipe. And this cornbread is a perfect summer recipe that incorporates in-season zucchini, too!
Serve this cornbread with your favorite chili or butter it up and top it with honey for a simple sweet treat.
Find the full recipe at Feasting at Home
Roasted Corn Cheese Dip
If you're the type that just can't get enough of sweet, fresh corn, this dip recipe is going to be right up your alley.
It's sweet, cheesy, and a little spicy, and is a perfect appetizer to serve with your favorite tortilla chips.
You could also incorporate this dip into a spicy chicken burrito or tostada.
Find the full recipe at EatingWell
Bacon-Wrapped Cheddar Corn Jalapeño Poppers
Bacon, cheese, corn, and jalapeño? This salty, spicy, and subtly sweet appetizer has it all!
Corn and cheese are combined to create a filling for the jalapeños, while bacon is wrapped around it all to keep everything in place.
This recipe also includes directions for how to make a cilantro lime ranch that works to cool down some of the heat from the jalapeños.
Find the full recipe at Half Baked Harvest
Creamy Corn Chowder
Corn chowder is another one of those must-have recipes when you put together a corn recipe blog post.
This corn chowder in particular calls for a whole bunch of pantry-staple items including corn, mushrooms, bacon, potatoes, shallows, and leeks.
This recipe requires a little TLC, but it's loaded with veggies and flavor, making it totally worth it.
Find the full recipe at Bon Appetit
Prosciutto Pizza with Corn & Arugula
Yes, corn can be a pizza topping! It adds a sweet flavor and a crunchy texture.
This recipe calls for you to grill the pizza, which we highly recommend. But if you don't have a grill, you can always toss your pizza in the oven and bake it.
You can make your own dough from scratch, or pick up some of our housemade dough for just $1.99.
Find the full recipe at EatingWell
Skillet Creamy Cajun Chicken Lazone with Herby Corn
If you aren't familiar with lazone, it's a chicken meal that's cooked in a creamy sauce with cajun seasonings.
Here, it's paired with herby roasted corn that adds a simple touch of sweetness and texture to this creamy, melt-in-your-mouth dish.
This dish requires just one skillet and comes together in just 30 minutes.
Find the full recipe at Half Baked Harvest
Chile-Flavored Corn Tortillas
If you have a whole bunch of corn and have already made all the chowders and cornbreads to your heart's content, consider trying your hand at homemade tortillas!
This corn tortilla recipe calls for a homemade adobo sauce that's mixed in with the tortilla dough to create a flavorful, spicy tortilla that can be used for all sorts of culinary applications.